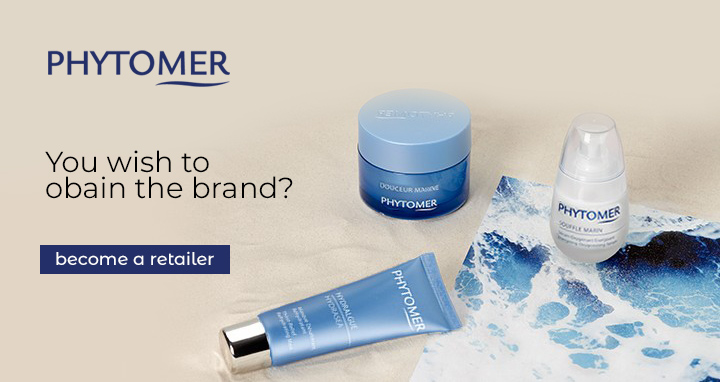 Visit Phytomer Canada's new website
www.phytomercanada.ca
The Ocean, The Science, The Beauty
Since 1972, PHYTOMER has remained an independent family business and is currently run by the founder's son. Firmly anchored in the heart of the marine environment in Brittany, PHYTOMER employs nearly 200 staff at both its head office at Saint Malo and its research and production site based in the world famous bay of Mont Saint-Michel. The brand benefits from a world-renowned reputation built up over 40 years of experience in the professional spa and beauty field. Its success, demonstrated by its presence in 70 countries and 10,000 points of sale
Treatment methods that invite to well being
Innovative, intensely relaxing and extremely active, PHYTOMER facial and body treatments are an invitation to well-being for healthy, natural and lasting beauty. They enhance the knowledge of the esthetician and bring all the benefits of the marine world into the treatment room. PHYTOMER observes and draws inspiration from the marine world
More than 20 scientists, experts in skin biology
A team of over 20 scientists, experts in skin biology, work to discover new marine ingredients in order to develop sensory-stimulating and highly effective products. The research and production methods ensure irreproachable quality and optimal tolerance, with the constant aim to protect the marine environment.
OLIGOMER®, the signature ingredient
OLIGOMER® is a partially sodium-reduced seawater concentrate, an exclusive manufacturing secret PHYTOMER has held for 40 years.
OLIGOMER® contains all of the remineralizing properties of seawater, notably 104 trace elements necessary for the balance and vitality of the body.
Present in most PHYTOMER face and body care products, OLIGOMER® transmits the remineralizing properties of seawater to the skin in order to strengthen and recharge it with energy.
PHYTOMER respects marine resources and controls their use.
Marine biodiversity, a sustainable commitment
PHYTOMER is a pioneer of in-house algae farming for cosmetic applications with a cultivation program in a marine area spanning 70 hectares (172 acres) in a protected zone.This program notably includes the cultivation of threatened species that can later be reintroduced to the natural environment. The filtering gardens are another concrete example of PHYTOMER's environmental commitment. This 100% natural and ingenious ecological system makes it possible to treat the water used to manufacture products exclusively with local depolluting plants, without the use of chemical solvents.