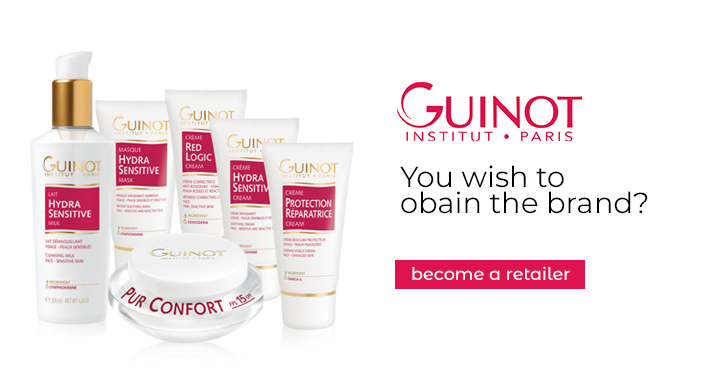 Expertise garnered over 40 years of beauty care
For more than 40 years, GUINOT's mission has been to make women more beautiful using exclusive and innovative beauty care methods.
For Guinot, it is the beauty therapist, the beauty professional, who combines his or her expertise with Guinot beauty care methods in order to obtain results which are immediately visible.
The son of a plastic surgeon, Jean Daniel Mondin, GUINOT's Chairman and CEO, chose to study pharmacy and obtained a doctorate. Endowed with the expertise thus gained, Jean Daniel Mondin redefined the concept of "cosmetics" through his own perspective and his medical roots. His education prompted him to establish a technologically advanced laboratory implementing the accuracy of pharmaceutical standards.
Guinot decided to exclusively entrust beauty salons with its treatments. Only these businesses have qualified beauty therapists that can perform professional beauty treatments.
The certified high-technology laboratory
Guinot carries out the manufacturing of its products with pharmaceutical accuracy and diligence.
Guinot's laboratories are one of the few cosmetics-manufacturing establishments in the world to have been certified to the highest quality standard by the international certification group Bureau Veritas, ISO 22 716.
This certification guarantees the high quality of manufacturing standards: cleanrooms, pure water which is continually tested, double-checking of weights, traceability of each product.
In order to measure the effectiveness of its beauty care methods and its products, GUINOT has re-established a Pilot Salon within its Research and Development Centre.
It enables new active ingredients arising out of recent scientific research to be evaluated, in order to improve formulas and increase their effectiveness.
The beauty therapist at the Research Centre can also develop new treatments, improve beauty care protocols and measure their effectiveness.
Our beauty vision/ethical beauty care
Guinot, an eco-friendly company, aims to respect the environment not only in its formulation and production methods, but also in the active ingredients and packaging it chooses to use:
The active treatment ingredients incorporated in the formulas are chosen in order to respect the environment; notably by sourcing them from renewable plants. Guinot is conscious of the environment's fragility and is concerned about protecting it.
The products are not tested on animals.
To improve skin compatibility, formulas are preserved without parabens and the active ingredients used are from non-GMO plants.
Special treatment of waste water and waste substances are carried out in conjunction with specialist waste-treatment companies, to comply with applicable ecological rules.
Achieve your beauty aims with the assistance of your beauty therapist
For Guinot, a cosmetic product is only effective if it is suitable for the client's skin type and corresponds to her beauty aims.
Give details to your beauty therapist of the treatments and textures that work best for your skin. Good treatments are even more effective when they are properly recommended and when they are suitable for your skin type.
The beauty therapist performs exclusive treatments, which provide visible and immediate beauty results. The range of treatments extends from basic cleaning care to high-end treatments using devices that increase the efficiency of products.